We are flexible in payment, so please advise us your preferred payment, and we will consider it for you.
* L/C: Letter of Credit
This payment is preferred sometimes for first trial business but with high bank charges, which is finally borne by the buyer.
If any amendment is necessary, the L/C amendment fee is for the buyer's account.
Besides, the delivery will be longer with more days for the amendment.
For L/C payment, your L/C will raise our cost a lot, and we will have to take much more additional cost and time to prepare all documents strictly as the L/C term, besides the bank charge is very high about 1~3%, so we can not take any more additional cost. If you need any additional documents outside the L/C term, please kindly pay the charges for that additional documents.
For the destination countries in war or sanction, we are sorry to decline the payment by L/C.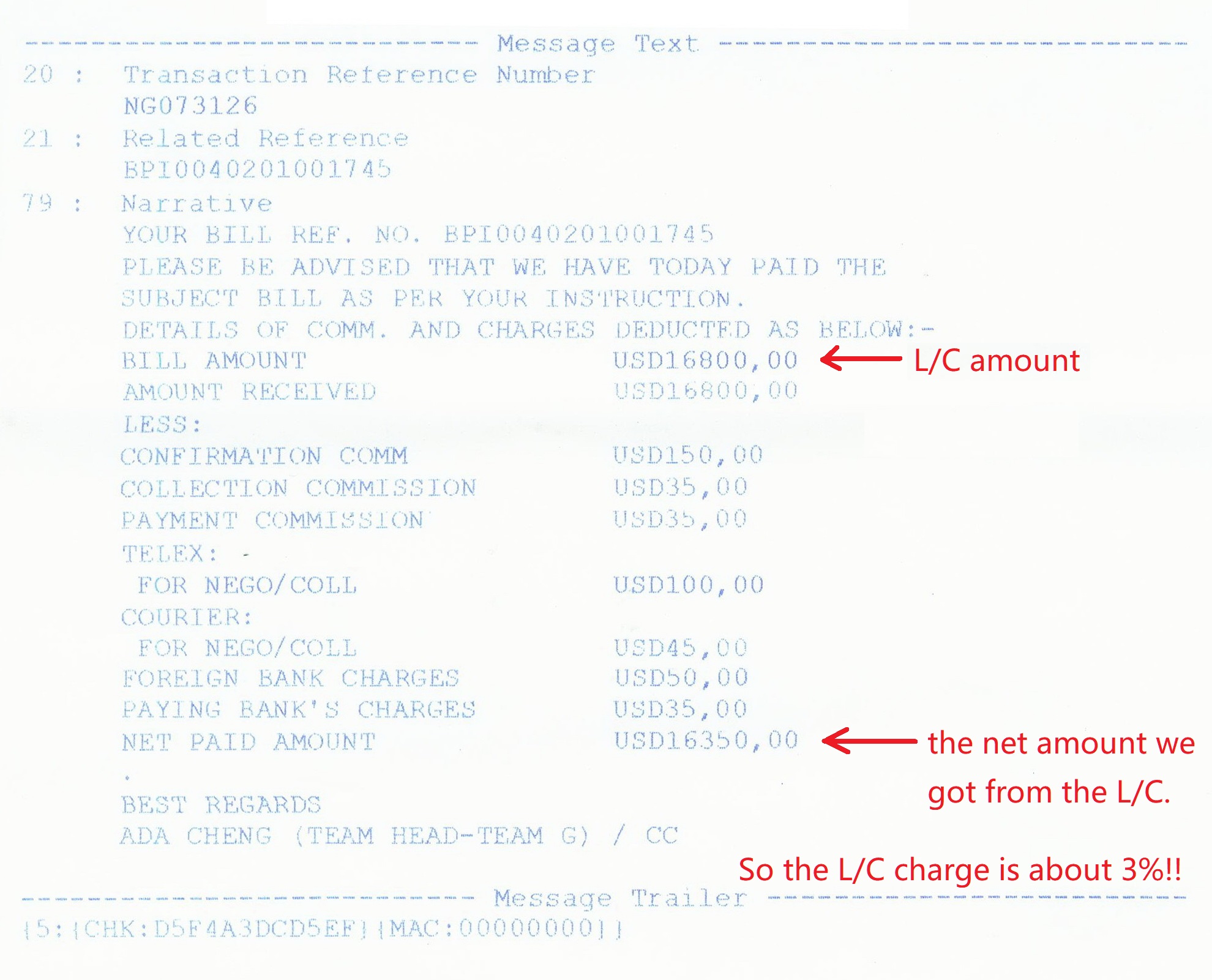 * T/T: Telegraphic Transfer or Telex Transfer
T/T is the abbreviation for Telegraphic Transfer or Telex Transfer, what is known to a layman as wire transfer, cable transfer, swift transfer, or remittance.
This payment is very fast and with very low bank charges, so it is preferred for good long cooperation.
If your order is urgent and you need earlier delivery, please confirm the order with T/T payment, then we will arrange your goods in priority for earlier shipment.
The T/T amount shall be the net remittance excluding all costs and charges levied by your remitting bank.
For T/T payment, we will consider more for your cooperation to lower the cost for both, and we will arrange all documents more flexible and free charge for you in the fastest way. Your urgency is our urgency.

After effect payment, please send the swift copy, which is printed by your bank swift system, with order number to our account dept account@wme.cn , so that we can proceed earlier for you.
We are sorry the remittance application copy in handwritten as manuscript can not be tracked by our bank, and we have to wait for the notice of your payment from our bank.
* Swift is a closed, private telecoms network whose subscribers are banks, merchant banks, securities houses and other qualified financial institutions.
Banks send messages to one another on the Swift system using formats known as MTs (Message Types) numbered from MT100 to MT999, each for a different purpose.
MT700: Issue of the L/C.
MT707: L/C amendment.
MT103: T/T.

For more stable price and reducing the additional USD foreign exchange cost, we prefer to offer you directly China currency CNY, and you may effect payment with CNY from your local bank.
You'd better inquiry with your bank. If your bank have the registered identification number in CNAPS, it is sure your bank can effect the payment in CNY.
CNAPS = China National Advanced Payment System
For our export, our CNY price is NOT including China VAT (Value-Added Tax), and you do not need to pay China VAT. ( If we do not export, we will have to include the China VAT for sales within China, and the price will be higher. )
For proceeding the export, we can only accept payment outside China Custom Territory. Hongkong, Macau, and Taiwan are China Territory, but they are different Custom Territory
with individual custom regulations. So it is acceptable for payment from Hongkong, Macau, and Taiwan to proceed the export. (Payment by cash or credit card is only acceptable for very small shipment of samples or catalogues by courier.)

For very small uneconomical sample shipment, we will have to consider some additional cost: bank charges, courier cost, uneconomical shipment handling charge.
In the bank wire swift, the item "71A: details of charges" should be "OUR" for the buyer to pay all bank charges so that the seller can receive the complete amount.
OUR - bank charges is for account of payer.
SHA - bank charges is shared between the buyer and seller.
BEN - bank charges is for account of beneficiary.